Spiritually Conscious Business
Merging our relationship with money & consciousness
This webpage is meant to be a growing informational resource to help us truly put conscious business principles into practice to not only adapt but thrive in a rapidly changing economy. Now is the time to start the process of getting a new education on how to live a life of more joy, creativity, and abundance.
With the rapid economic changes occurring these days, one wonders what is really going on! An abundant lifestyle is just a dream for so many, yet the spiritually conscious business owner knows that we are naturally abundant.


What's going on?
People who are aware they are on a path of evolving consciousness have recently been sharing a very interesting viewpoint about our challenging economic times. The view is that our economic structures and the way people relate to money is changing. It's simply not sustainable to relate to money in a way that is not for the highest good of all. On the bright side, people who do business in integrity and operate from the heart will flourish because we will be part of the integrative energy of our elevation in consciousness.
New businesses and organizations will be growing to assume responsibility for our economic support as outmoded ways of doing business fall away. This will seem like a totally new concept to some and an obvious fact to others. What matters is that we realize this change is happening so we can be more empowered by getting a new education to revamp our relationship with money. Then we can connect with new ways of doing business and take action to create abundance.



So we may ask ...


Who are the real people offering a thorough, new education on the evolving nature of money?


Jennie Marlow

Formerly a successful executive and business consultant, Jennie has now been channeling and teaching for almost 20 years. Jennie teaches workshops on numerous topics that make a difference in people's life and offers teleconferences on evolving your money. I've been learning much from her by listening via iPod to her recorded workshops.


What teachers can we work with one-on-one to profoundly revamp the limiting, outmoded ways we relate to money?


Selacia
Selacia is a teacher I've known for few years. I find she operates in the highest integrity and shares uplifting spiritual wisdom. I discovered her DNA healing to be a way to transform many limiting beliefs including my own outmoded beliefs about money.
Selacia offers processes and insights for transformation at the deepest level of our being. She works long-distance by phone with people worldwide and offers free initial consultations about her life's work.


What are the best new spiritually conscious businesses that are gaining momentum?


1. See my review of Humanity Unites Brilliance. HUB is a growing group of socially conscious people who network with each other in a new model for business and humanitarian living.
2. Learn about how the Conscious Business Institute helps existing businesses integrate conscious business practices. They also offer funding to help spiritually conscious business owners start up.


How can my passion really support me as a spiritually conscious home-based business owner?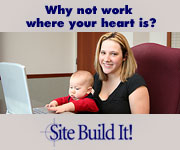 Site Build It! offers a comprehensive road map to home-based business ownership now being taught in major universities. Their practical action guide shows even the Internet novice how following a simple passion can build an online business that provides financial support.
Site Build It! is the web host for Our Holistic Healing Hub, and I love its many features and friendly people. Get the proof SBI! works. Then study a few case studies of real people creating abundance by sharing what they know and love with the world. Visual learners should see the Site Build It! Video Tour.


Merging heart, technology, and business
Since I see that my personal gift is merging technology and heart, I'm now freely helping Our Healing Hub reviewers revise existing homepages and offering up plenty of good advice on how lightworkers can use technology to touch the world online. Attraction marketing with heart helps spiritual lightworkers touch a worldwide audience. I teach how to merge heart with technology to market yourself and grow your business using SBI! websites, teleclasses, SEO, & more.



---

Discover even more uplifting spiritual guidance and alternative health solutions with friends on Facebook!

I also help you build a thriving, heart-centered practice with a beautiful flow of income to fill the world with higher love.


I'm AJ inviting you to sign up for Our Healing Times e-zine to stay in touch. Get the inside scoop on worldwide call-in spiritual events, online classes, & wellness tools. Enjoy our free long-distance healing exchange and pearls of wisdom from renowned spiritual teachers. I respect your privacy. Or, simply subscribe to my
blog
to keep up on what's new!


Click to return from Spiritually Conscious Business to Our Holistic Healing Hub